This is the first installment in a series of articles that will explore the best hikes in and around Haywood County. Today we take a look at the Cataloochee Divide Trail to Hemphill Bald, located in Great Smoky Mountains National Park near Maggie Valley.
I set out on a journey last Friday morning to hike the Hemphill Road Trail, which according to alltrails.com – a site that has never failed me in the past – is the third best hike near Waynesville.
But as I drove up the mountainside, the destination on my GPS came and went with no trailhead in sight. So I did what any explorer with no real expertise worth his salt would do – I kept driving, into unknown territory, past several gates and a couple signs that read "Vehicular access is restricted to scheduled education and research groups," and "IF YOU ARE NOT OFFICIALLY SCHEDULED TO DRIVE THROUGH THE GATE YOU MAY GET LOCKED IN."
My blind curiosity was rewarded when I reached Purchase Knob, which is part of 500-plus acres that was donated to Great Smoky Mountains National Park in 2000. There's a gorgeous home-turned-science center (the Appalachian Highlands Science Learning Center, to be exact) sitting nobly on the hillside as you drive up. The view from the front porch itself is well-worth the trip.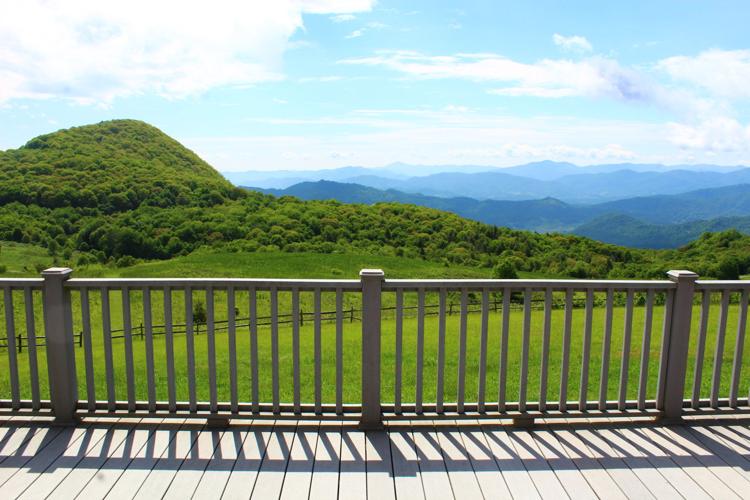 A ranger stepped out to buidling to inform me that the Hemphill Road Trail isn't really a thing – or at least he hadn't heard of it – and that sometimes people post hikes on alltrails.com without consulting local rangers.
No matter, though, because the ranger was kind enough to offer several alternative hikes, one of which was the Cataloochee Divide Trail to Hemphill Bald. He told me to follow the woodline, and then the signs, and I said "thanks," and set out on my first solo hike in Western North Carolina.
Note: I've since been informed by hikers more experienced than myself that the gates leading up to Purchase Knob are rarely open, and it was pure chance I went on a day that they were. If they are closed on the day you decide to go, it's possible to park there and walk the rest of the way.
For more information about accessing the Cataloochee Divide Trail via Purchase Knob, contact the Great Smoky Mountains National Park headquarters at 865-436-1200.
The Jist
In its entirety, the Cataloochee Divide Trail stretches 13.2 miles, but those starting at Purchase Knob and making the trek to Hemphill Bald are looking at about a 6.4-mile roundtrip hike through mostly wooded terrain. There are several dreamy vistas of Blue Ridge Mountains, which include some of the most famous natural landmarks in Western North Carolina – Cold Mountain, Mount Mitchell and Mount Pisgah, to name three.
Getting there
From Waynesville, take US-276 N, to US-19 S, back to US-276 N. Turn left onto Hemphill Road, two miles past Jonathan Valley Elementary School. You'll be on Hemphill Road for about four miles before it becomes Purchase Road. Keep going. If the gates are closed, you can stop here and walk the rest of the way to Purchase Knob. On the off-chance they're open, you can drive to the top and ask a ranger for his recommendation.
Alternatively, just type into Google Maps "Appalachian Highlands Science Learning Center" and follow the directions.
You should do this hike if...
...you don't want to travel too far, you're in moderate-to-good shape and enjoy raising your heart rate a bit. The last half-mile push to Hemphill Bald was fairly strenuous. I was sweating and breathing hard by the time I got there, I'll admit.
What's special about it?
The view from Hemphill Bald.
You'll be breathing hard by the time you make it up there, but it'll totally be worth it, I promise. The view is, by far, the most stunning one on the trail, and it feels like an extra-handsome reward after hiking under the forest canopy for the majority of the trip.
What you'll see and hear
You'll see birds darting, butterflies floating, millipedes slinking, mushrooms, rabbits, maybe a turkey, a scarecrow, a garden and an impossibly perfect field of hillside grass blowing meditatively in the breeze. You'll hear wind rustling the trees, crows cawing, and your heart pounding in your ears as you make the final push to the top.
Anything else I should know?
About a mile-and-a-half into the hike, you'll come across an open area to your left known as Gooseberry Knob, upon which you'll see a gazebo with a hammock, 24-wooden lounge chairs and six picnic tables. While it may appear open to the public, the amenities are reserved for paying customers of The Swag, a luxury inn located up the trail from Gooseberry Knob.
Note: I didn't know this during the time of my hike, so I extend my sincerest apologies to owners of The Swag for briefly lounging in the hammock during my trip down from Hemphill Bald.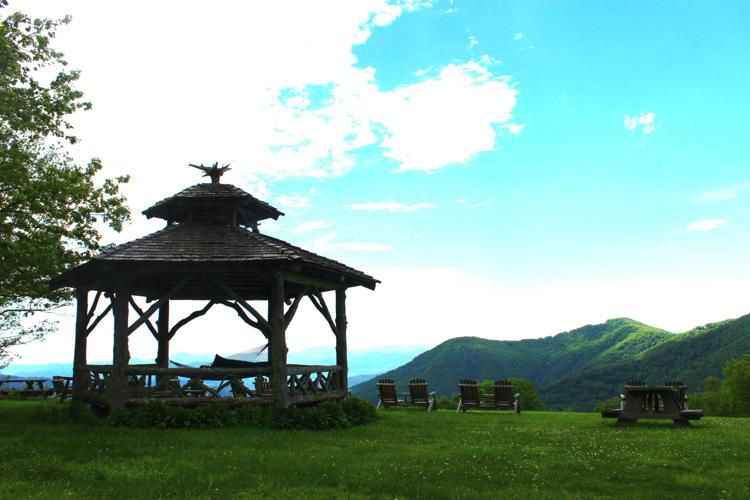 About a mile and some change past Gooseberry Knob, you'll come across a signpost overthinkers may find confusing. Make sure you follow directions toward the Hemphill Bald Top: a skinny trail that runs along a barbed wire fence to the left. If you take a right at the fork, you'll head toward the Hemphill Bald Trail, which isn't what you want – at least not now.
What's the timeline?
I started my hike at 11:15 and was back in the parking lot by 2:07. I made it to Hemphill Bald at 12:45. I took my sweet time, though, snapping pictures, scribbling notes, soaking in the natural beauty and meditating like a hippie once I reached the bald. Fleet-footed hikers could probably get in-and-out within two-and-a-half hours.
Final verdict
All told, this hike has everything one could possibly want in a springtime WNC adventure: multiple breathtaking vistas, windswept mountain sides, scenic overlooks, birds, flowers and enough isolation to ponder what it all really means, man.
Bottomline: It's close-by, delivers repeated aesthetic rewards and makes you feel like you've accomplished something, without leaving you immobile the next day. Even if you must park at the gate and walk the rest of the way, this hike is worth it.
Difficulty: 3/5
Overall rating: 4/5