MAGGIE VALLEY — The dull sound of mallets pounding stakes could be heard near the stream behind Elevated Mountain Distillery Monday morning.
That repetitive thudding was the ambience of improvement, as the finishing touches were being put on a week-long stream restoration project along the bank of Jonathan Creek.
The project's main goal was to improve bank stabilization and decrease a severe case of erosion – erosion that had been lowering water quality and creating safety hazards for those attempting to enter the stream.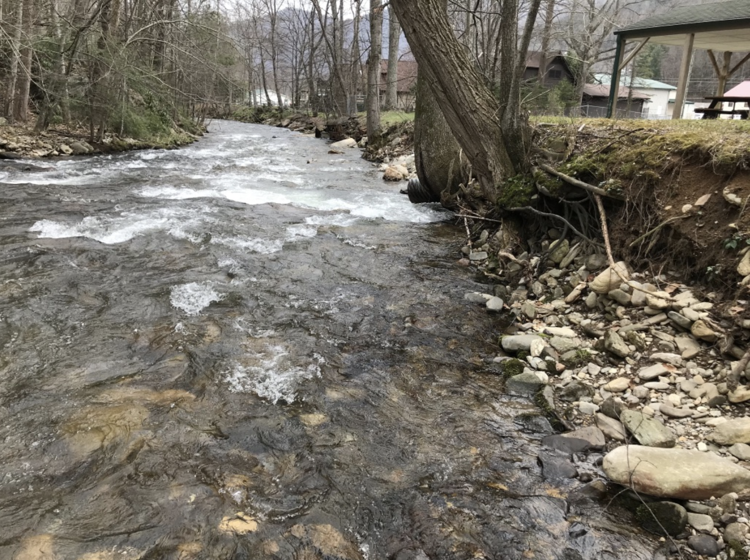 The initiative was orchestrated by Haywood Waterways, a local non-profit that focuses on stream improvement in Haywood County. The organization established partnerships with the Town of Maggie Valley, Elevated Mountain Distilling, the Pigeon River Fund and Jennings Environmental to take the project from idea to reality.
The restoration, which began Oct. 1, turned a precipitous stream bank into a smoothed-out plot of land that will provide much easier – and safer – access to the water for those wanting to fish or swim. The land is owned by Elevated Mountain Distilling, but has been made available to the public through as easement with the Town of Maggie Valley.
"It used to be a five to six foot drop to the waterfront," said Dave Angel, principal owner of Elevated Mountain Distilling. "I always thought, man, if a fisherman slid the wrong way [trying to enter the stream] and hit their head, they could drown. So we need to do something about this."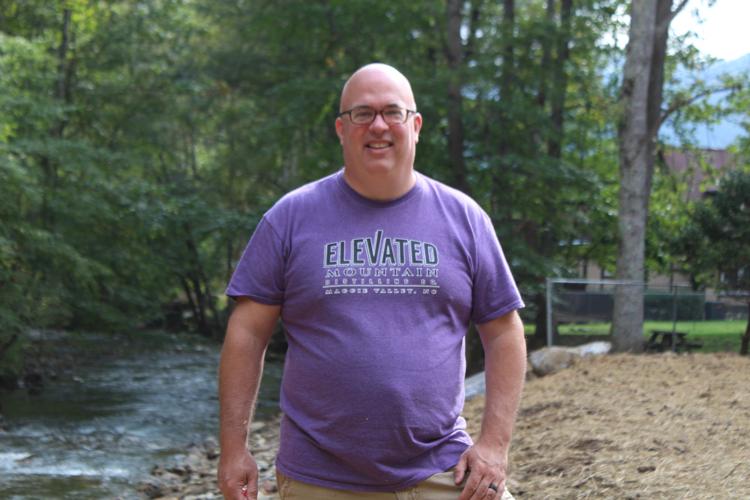 The craggy bank wasn't the only issue.
During the 1940s or '50s, two old buses had been buried along the bank in an attempt to provide stability. Those buses had begun to rust and atrophy, causing additional water quality issues – in a stream widely regarded for its cleanliness, nonetheless – as well as general safety concerns.
The interior parts of the vehicles had already been removed, so leaking fluids weren't a problem. But the unsightly and dangerous old vehicles still needed to go. They were successfully removed last week by backhoes without "any real detrimental impact to the river," according to Greg Jennings, principal engineer of Jennings Environmental.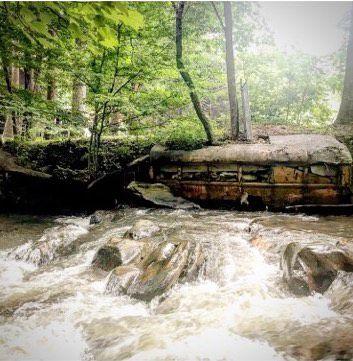 The practice of burying old vehicles into banks for stabilization purposes – and, unfortunately, disposal – seems to have been "common practice" in Western North Carolina in the mid-20th century, said Jennings. Those vehicles run the gamut from cars to trucks to buses to railroad cars, and each is equally environmentally unfriendly.
"All of it is bad for stream health," said Jennings. "And it's also a public nuisance."
That sound of hammering Monday morning? It came from mallets securing coir net to the rocky earth. Made from coconut fiber, coir net is biodegradable and durable, and will slow the erosion process in the coming years. Native plants and trees will be sown on top of the net to beautify the area and increase overall stream cleanliness.
"A healthy stream isn't complete without healthy streamside vegetation," said Eric Romaniszyn, executive director of Haywood Waterways. "Once grass is established, it does a great job of preventing rain from eroding land..."
Representatives from Haywood Waterways and Angel are entertaining the prospect of using the location, which includes a pavilion, to host collaborative events – perhaps even live music. There's been talk of a get-together as early as November to celebrate the bank's makeover and the sowing of native plants, though nothing official has been announced as of yet.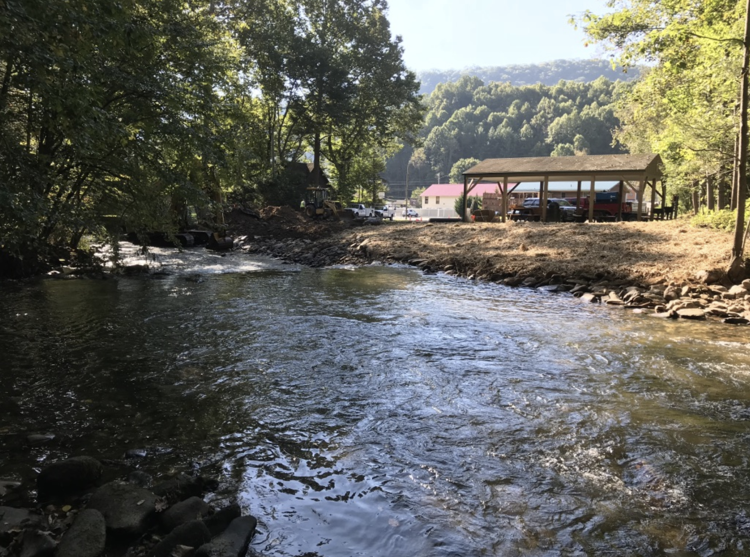 "We are excited about the possibility of hosting an event here," said Haywood Waterways project manager Caitlin Worsham. "This is a great opportunity to show the public all the hard work that has gone into making this project a reality."
Whatever the future holds, the area's new look will provide a relaxing escape for anybody interested in using it.
"Next year, when the grass has grown again, it's going to be phenomenal," said Angel. "It encourages more people to enjoy the creek, and that's what it's all about."