Since its opening in early 2013, WCU's trail system has become a well-loved recreation option for Western's students. What often goes unseen is the work put into maintaining trails like these here and around Western North Carolina.
Western Carolina University's trail system features 6.7 miles of narrow tread for multipurpose use (biking, hiking, running) and can be accessed by two points: the parking lot of WCU's Health and Human Sciences Building and the pedestrian tunnel under Highway 107 near WCU's softball complex.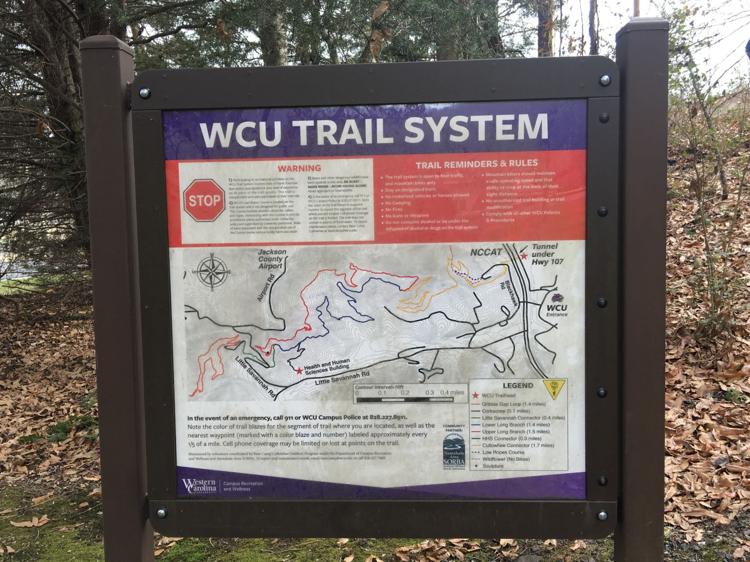 Walking along the trail system during a recent break in the winter weather, many trees that had been recently downed were cut into sections on the sides of the trail and the soil was uneven and exposed in places. The paths were clear, but the trail looked like it had been hit hard. How did this happen, and what does a community so close to a trail do to combat erosion?
According to Jeremiah Haas, associate director for Basecamp Cullowhee, the trail isn't actually maintained by facilities management on campus. "We have to maintain the trail ourselves," he said.
Basecamp Cullowhee is a university outdoor organization, located around the center of Western's campus through its Recreation & Wellness center. They provide outdoor outlets and resources to the community beyond Jackson county, such as outdoor recreation trips, education opportunities, and outdoor equipment rentals.
Haas is a strong advocate for trail maintenance and the role Basecamp play caring for Western's trails and others in the area.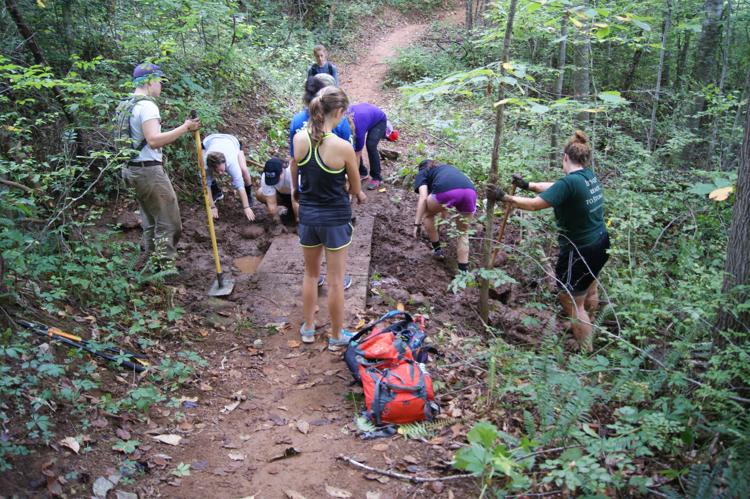 Typically once a semester, Basecamp will have an open enrollment trail day advertised in which 20-30 students come along to help maintain the trail.
Between the hours of 9 a.m. and 12 p.m. volunteers participate in a slew of maintenance projects which can be anything from cleaning out drainage ditches, creating new dams to help divert water in different directions, weed whack springtime vines and briars to keep them away from the path, and more.
There are other trail days as well. If clubs on campus need volunteer hours and want to organize a maintenance day or even just spend a day on the trail, they can set up an event through Basecamp.
It's not only student run, however. Trail stewards go out on a monthly basis to report potential downed trees and hazards. This helps Haas coordinate and plan future service projects or decide if they need to go out immediately to take care of a hazard.
Basecamp student worker and senior Barrett Rokuskie commented that he loves the trail system and how accessible it is, but what means a lot to him is giving back to the community via trail maintenance work.
"North Carolina is one of the few places in the US…with so much public land," Rokuskie said. "As a community, if we are going to use them we have an obligation to maintain them."
Rokuskie made it clear the trail maintenance is something Basecamp takes seriously.
Haas assures that the trail is built and maintained with care in protecting those who step foot upon it. They carefully construct pathways ensuring that people don't wander into potentially dangerous areas, as well as putting signs up preventing interference from research projects going on in the trail itself.
What causes the damage?
"As we've seen around here, it rains a lot," said J.P. Gannon, a WCU assistant  professor of geology with an interest in hydrology and soil science.
"The biggest challenge on any trail around here is ensuring that water doesn't run down the trail for long, because if it does it can pick up speed and if it picks up speed it picks up soil and then takes that off the trail," he said.
"It's important the trail sheds water quickly off the trail to the dams we dig, otherwise water runs down the slope and picks up soil...therefore, [trail designers] try to avoid having steeper slopes and prevent serious damage with dams and ditches."
As a trained trail steward, Gannon says the main issue for trails in Western North Carolina is winter storms, rain primarily due to water drainage.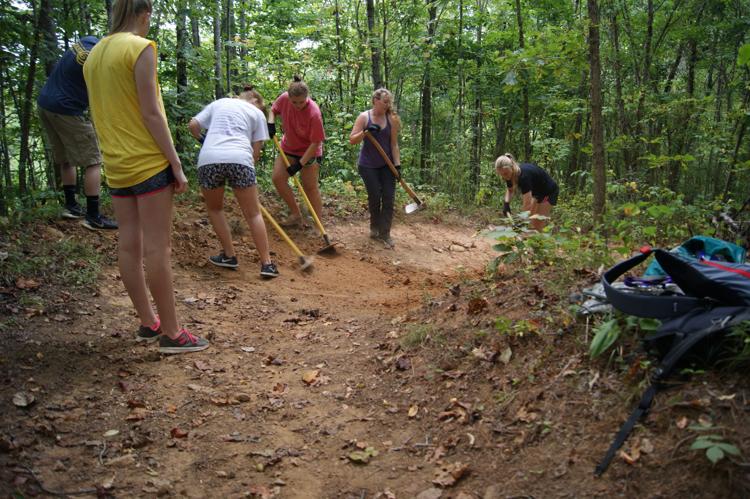 "What happens to all that water [is] it's trying to drain through the soil...the water freezes and it can't go anywhere, so it pushes the soil apart…makes it looser and then melts," he said.
Haas explained that the trail was built with a focus on the slope and bumps and rolls to keep water from running downhill.
"I think a lot of people don't realize that when it's rainy like this, especially in the wintertime, the trees aren't pumping water out of the ground like they are in the summer," Gannon said.
"The trails stay wet for a lot longer, which that's a really dangerous situation for the trails…because [the trails] stay muddy. When it's muddy, being on foot or on a bike you do a lot damage when you're hiking because you move soil around in ways you couldn't if it was dry."
Gannon noted with regret that he hadn't been able to ride his own bike on the trail in weeks, due to not wanting to damage the trail.
Despite current conditions, Haas is quite impressed with the state of the WCU trail system five years after its opening.
However, he still has concerns. He highly advises newcomers to the trail to do some research and reach out to Basecamp for information about their maps, proper ways to prepare before going out on the trail, and making sure they know where to go in and where to go out. He says the trail has always been safe, but people often call with concerns and he wants to be sure they're properly prepared for when they go out onto the trail.
While still advising premediative caution, Haas assures their goals are to maintain the trail so it can be open to everybody, and welcome to all.