Join Jo Ridge Kelley on Saturday, July 4 for her Artist Demonstration. Jo will be sharing the secrets of oil paint from 1-4 p.m. in the Haywood County Arts Council gallery.
Kelley is a contemporary plein air impressionist painter and lives and works in Waynesville. Her favorite subjects are flowers, landscape, seascape and abstracted nature.
Kelley's work is continually influenced by her traditional background and the "plein air" experience, setting up her easel and capturing the immediate mood or drama of the moment.
Kelley's curiosity, sincere appreciation of the natural world and desire to experiment with strong composition and design, have led her on an exciting journey with large canvases, palette knife and impasto.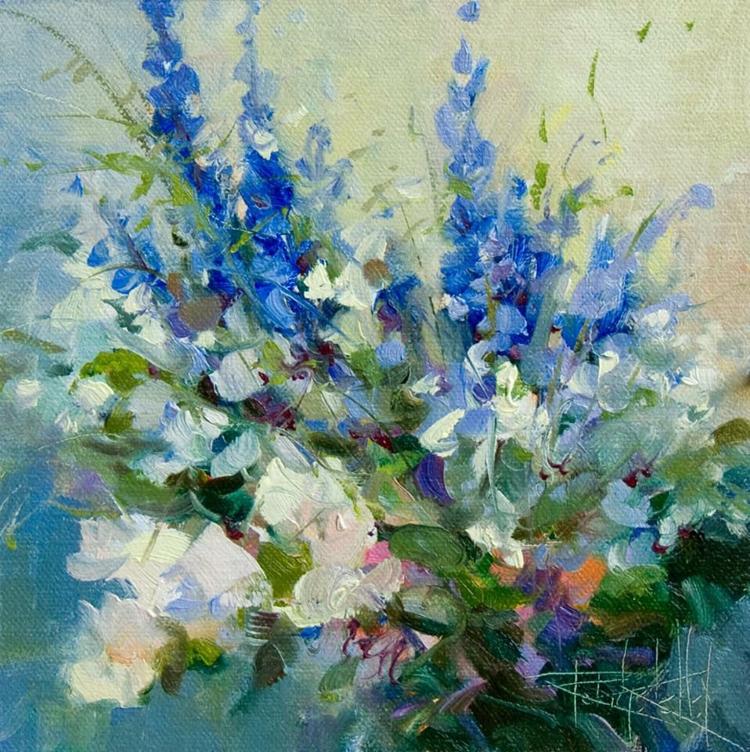 "I feel it is essential for the artist to experiment and try new techniques," Kelley said. "This is how we grow, and let's hope we never stop growing. I enjoy going back and forth between mediums, especially when creating small studies. The exciting colors and textures that many times happen accidentally during this exploration process are invaluable to the creation of larger works. I am not interested in describing every detail; I want the viewer to feel like they are walking right into the scene, participating in the moment, feeling and experiencing all that their imagination will allow."
Kelley was born in High Point, and raised on a dairy farm in the Quaker tradition. Surrounded by colorful hills and meadows, creeks and ponds, there was a bountiful natural world just outside the screen door.
As a teenager, she studied painting with an excellent local landscape oil painter. She began painting on a regular basis and sold her first paintings.
Kelley attended the University of North Carolina at Charlotte where she earned a degree in fine arts and art education.
She taught drawing and painting at the high school level for several years and continues to teach painting workshops in oils and watercolors from her Waynesville studio, 163 S. Main Street and en plein air (out in the open air).