ELKMONT, Tennessee — One of the most stunning natural light shows in the world recently took place at Great Smoky Mountains National Park.
Over the course of several nights in late May and early June, upwards of 2,000 people descended on Sugarlands Visitor Center in Elkmont, Tennessee — about an hour and a half northwest of Waynesville — to watch synchronous fireflies flicker in the night.
The woods were alive with a certain rhythmic bioluminescence that's found in just a handful of places on Earth, including South Carolina, Pennsylvania, Arizona and Southeast Asia.
"Tonight you're going to witness one of the most spectacular light shows ever," Park Ranger Katie Corrigan said. "I'll let you decide for yourself, but I can honestly say it's unlike anything else I've seen."
"Some people have described it to me as something to check off their bucket list," she added.
The event has become widely popular throughout the region, to the extent that an annual lottery is held to keep the number of attendees at a manageable level. More than 29,000 people applied this year, with a slim 1,800 making the final cut.
The lucky winners arrived in Elkmont on one of several nights in which conditions were perfect for peak synchronization. Visitors were loaded onto busses and driven 20 or so minutes into the park, where they hiked into a relatively isolated section of the forest via Little River Trail.
They stood on the path, looking into the ever-darkening foliage. As sunlight grew dimmer, the fireflies — or lightning bugs — took center stage. Isolated flashes began around 9:30, but before long, a pattern reminiscent of Christmas lights emerged, invoking ohs and ahs from awestruck humans.
Perhaps it was Corrigan who most accurately described the experience.
"I like to refer to it as a firefly wave," she said. "It starts on one side of the mountain, continues across the valley, and up the other side of the mountain."
"It looks like fairies in the forest," she added.
This surreal phenomenon — like many awe-inspiring events that occur in nature — is a mating ritual. Only male fireflies synchronize, Corrigan said, and they do so because a single male can't produce enough light to woo a potential lover.
Thus the males unify, creating a circuit board of seduction that females can't resist. Many of the females lie in wait on the ground, periodically flashing in response to the grand display.
Corrigan explained how to find an ideal seat for the show.
"You want to be in a spot that's dark, with a thick canopy," she said. "But you don't want a lot of trees and bushes underneath, because they'll obstruct your view. What you're looking for is a dark, clear area."
There are 19 species of firefly — which are part of the beetle family — in Great Smoky Mountains National Park. Only one of those species, photinus carolinus, is synchronous. Three others could be seen during the light show, however, including the eerie phausis reticulata — popularly known as the blue ghost.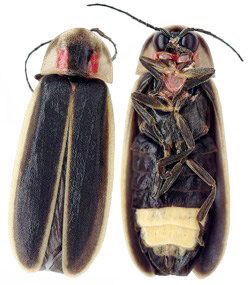 "It's one of my personal favorites," Corrigan said. "They light up with a pale purple color, flying about eight inches above the ground, and staying lit for 20-40 seconds."
"In the back of your mind, you might think 'what's wrong with that poor little guy?' But it's just the way that species acts. It's quite unique."
As Corrigan sees it, such a rare natural happening is just one of the many reasons to visit Great Smoky Mountains National Park.
"Some people come to the Smokies to see bears, others come to see historic buildings. Some want to see the mountains," she said. "And some come to see the fireflies, which may be the most unique of them all."