Turbulent waves crashed over Soni Carrier's vision of owning her own successful seafood joint. As of 2013, the seas have calmed, and Maggie's Galley drifted right into its new location in Waynesville.
Carrier has always had a love for Charleston, which she adopted over the years when she sailed into restaurant ownership.
Walking through the rustic, wooden doors, you see fish shaped cut outs on the backs of chairs, wooden picture frames strewn along the walls and rustic lighting adding to the coastal fish shack ambiance you would expect from the mom and pop seafood restaurant on the Carolina coast, minus the smell of low tide.
Before Maggie's Galley in Waynesville, Carrier worked at the Waynesville Country Club for 18 years, Apple Creek for five and the Russ Avenue Maggie's location from 1999-2011.
"This (Apple Creek) is where I learned about food, labor and what to do more in the back of the restaurant," said Carrier. "I wanted to create a place where everyone is comfortable. My staff has learned that you must work hard for what you have. I am here 24/7; this is my life."
The Charleston inspired menu boasts the classics, including High Country Shrimp (shrimp and grits), variations of po'boy and fish sandwiches as well as raw oysters and seafood chowder.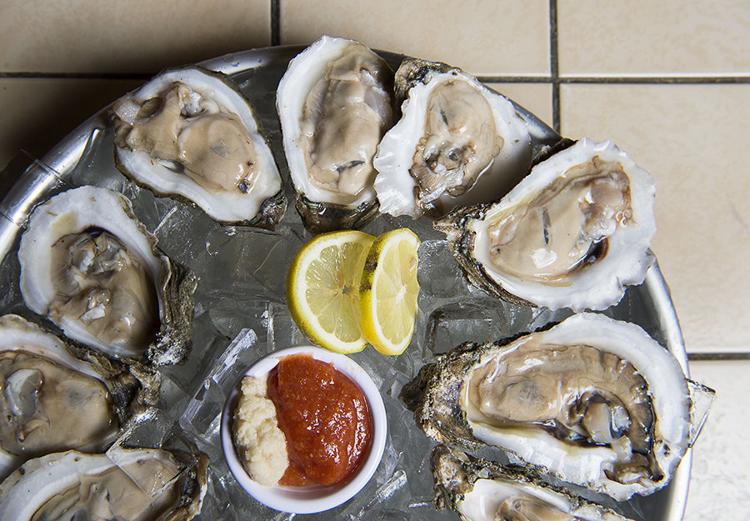 The fresh seafood options are displayed with the specials listed on a board before walking int the main building in the restaurant, so there is no guessing game when it comes to picking what is the most fresh on the menu.
Bottom line, I am a snooty seafood fan. Being surrounded by the ocean on all three sides, I always ate the freshest you could find. When I heard about the Maggie's seafood chowder, I immediately left for lunch break. I quickly discovered that not only was the chowder incredible, but they had blackened Grouper on the menu. Not trout, not catfish, not salmon. Salt water Grouper.
I was sold, so I thought, until I returned and ordered the High Country Shrimp. Shrimp, grits and Maine lobster claw all for all of $12.
"You can go several places and get shrimp and grits, so we wanted to do something a little different," said Carrier. "We use stone ground grits, put it on a sheet pan and use a biscuit cutter to shape them, before it is dipped in house made blackening seasoning."
The leek cream sauce is perfect to break down the hearty grit cake that sits beneath the monster pile of seafood. I personally loved the grit cake versus standard free flowing grits. It holds it all together, and the grit cake absorbs the cream sauce, which is comparable to when a biscuit absorbs the gravy; and there is lobster, so where can you go wrong? You can't.
The inspiration came from a version that Carrier sampled on a vacation to Charleston, which she passed on to her chef at Maggie's upon her return.
"Todd in the kitchen came up with it (High Country Shrimp)," said Carrier. "It was the most requested special, so now it's always available."
Most of the main dishes and sandwiches come with a side, and while I would highly recommend the seafood chowder, which is basically a hearty meal of its own, there is an unexpected unsung hero waiting to be shared with the world.
The sweet potato casserole competes with any I have had at any Thanksgiving ever.
The buttery whipped goodness of the sweet taters are topped with a caramelized pecan brown sugar. And its thick. I'm talking pecan pie meets sweet potato pie thick.
I can personally promise that I will never return to Maggie's Galley again without ordering that casserole as my side.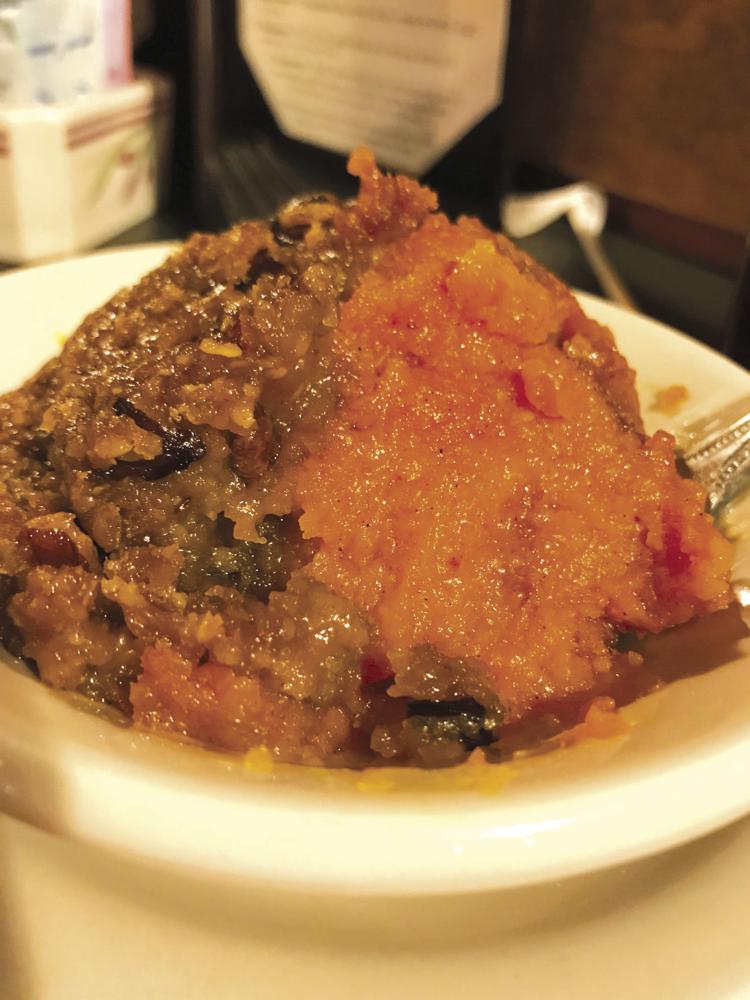 Not only was my snobby self-satisfied with the freshness, but I can now have a piece of Thanksgiving year-round.
The fish and shellfish come from Inland Seafood, which gets its supply from local fisherman around the Southeast region of the U.S. According to their website, the fish is caught, fileted and delivered within 18 hours.
"We have stayed so true to what we are. Locals generally know what they want right when they come in the door," said Carrier. "We use prime beef, chicken and pork as well, so there are other options."
Along with Carrier's passion for serving up fresh seafood and inviting customer service, she also has a passion for giving back to the community.
Every month, a percentage of the sales is taken out of the profit and donated to local charities, which usually comes out to $1,000-$1,500.
"We buy the ARC Christmas gifts every year, and they come in for dinner," said Carrier. "They give us a list, and each ARC staff member gets $100 from donations we collect and donate, to buy the desired gifts. We have Santa here and they can order whatever they want off the menu. Everyone usually cries."
In April, Maggie's Galley also teams up with Frankies for the Dine Out for Autism, as well as participating in The Taste at Maggie Valley Country Club.
With 41 full time employees, Carrier and her three daughters have their work cut out for them, but continue to provide Haywood County friendly service and top notch seafood that keeps locals and visitors returning for more.
"We enjoy what we do," said Carrier. "Some days are harder than others but we are pretty good at it."