FINES CREEK — David Grasty is not a doomsday prepper.
He doesn't have six months worth of cannellini beans stored in a bunker under his house. He's not constantly fretting over a Russian invasion. Nor is he secretly hoping for the onset of a nuclear winter to justify a gross overstock of goods.
David Grasty is, however, a practical survivalist. He keeps two fire extinguishers in his house, and one in each of his vehicles. He can lead you around his property in Fines Creek, pointing out what's edible and what should be left alone. He can teach you how to stay alive if you're lost in the woods without cell service.
"I teach 72-hour survival," he says from his front porch rocking chair, sporting jean overalls and a Tuscola baseball cap. "I don't go and live in the woods. Basically, I teach rules that are practical and easy to remember. Because if you can't remember it in a survival situation, it's useless."
Grasty is the creator of WNC Bush Craft and Survival, a Facebook page populated with videos shot "Blair Witch-style," as Grasty calls it, of himself offering pointers on a wide swath of survivalist topics, from land navigation to wild edibles to firecraft and much more.
His aim? To keep it simple, stupid.
"People can watch a three-minute video on my [Facebook] page and learn something new, just like that," he says. "A lot of survivalists on YouTube will have a 15-minute video, with introductions and all this mess."
"Three minutes. Get your point across," he says. "That's it."
His Facebook page currently has 4,160 followers, and his videos regularly receive upward of 3,000-4,000 views. The comment sections are generally filled with friendly exchanges of information and praise of Grasty's vast knowledge — no small achievement, given how often comment sections devolve into the digital equivalent of a middle school food fight.
In the "about" section, Grasty gives his no frills explanation of his page's purpose. To wit:
"My own page to document/teach those interested in all things Bush-Craft/Survival/Psychological. No politics/potty mouth stuff. Be respectful."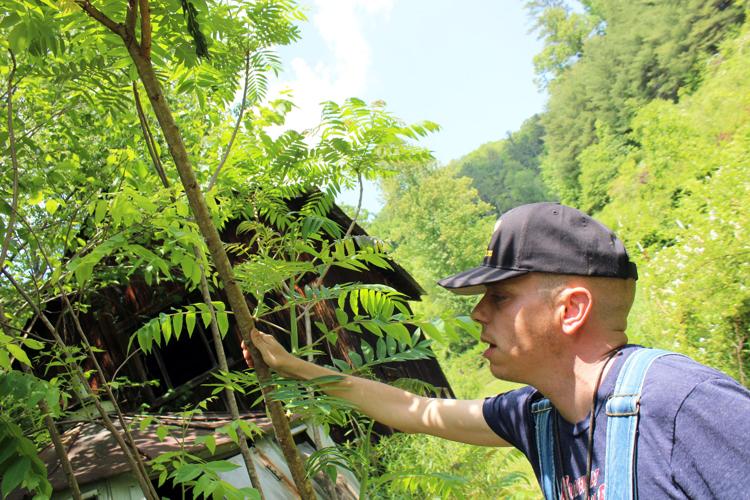 Grasty's affinity for brevity, and his disdain for — to put it crudely — bullcrap, perhaps is rooted in his 20 years of service in the Air Force. He's retired now, at 40 years old, and most of what he learned about teaching he absorbed in the military.
Before going to Iraq, he underwent a five-day combat course training, which not only taught him how to implement combat first aid, but how to effectively teach it. He eventually became a certified combat first aid instructor.
When he returned from his final tour in Iraq seven years ago, he was drawn to survivalism — including wild edibles. So he taught himself the craft, by mastering a couple plants per month. He'd pick two — say, sassafras and greenbrier — and identify those plants in three different "microclimates," as he calls them. Once he could identify that pair at the snap of a finger — and recite pertinent details about each — he'd move onto other plants.
On and on like that, until he eventually ended up where he is today — with about 60 wild edibles committed to memory.
Grasty speaks with the gruff candor and dry humor befitting of a 20-year military vet. He's thin, with an endearingly bald head hidden under his Tuscola hat (he's a 1996 graduate of the school). It would come as no surprise if he exited the womb wearing jean overalls.
His blood runs deep in Haywood County. As he tells it, his "kinfolk" were the first white people to settle in Cataloochee. His great grandpa, Mitchell Caldwell — who appears on Grasty's business card, strumming a banjo — was a full-time moonshiner.
"People ask what he did for a living, and I tell them he made moonshine," he says. "And they're like no, what did he actually do? And I tell them he made moonshine."
"That's how he took care of his family," he adds.
His dad and brother, too, spent 20 years in the service. For those skipping the math, that's 60 years of military experience between the three of them. Grasty was in an Air Force ammo troop, thus he built bombs during wartime. "We got to put fuses in them, tails on the back...our job was to put them together, to make sure they go 'boom,'" he says.
He was involved in Operation Allied Force, which included attacks on Yugoslavia. He also spent time in an area of Iraq that was bombed so frequently that it earned the nicknamed "Mortaritaville." Says Grasty: "Your brain rewires itself. My mind sometimes still listens for alarms and explosions. It's hard to tell [my brain] that I'm here now and nothing is going to happen."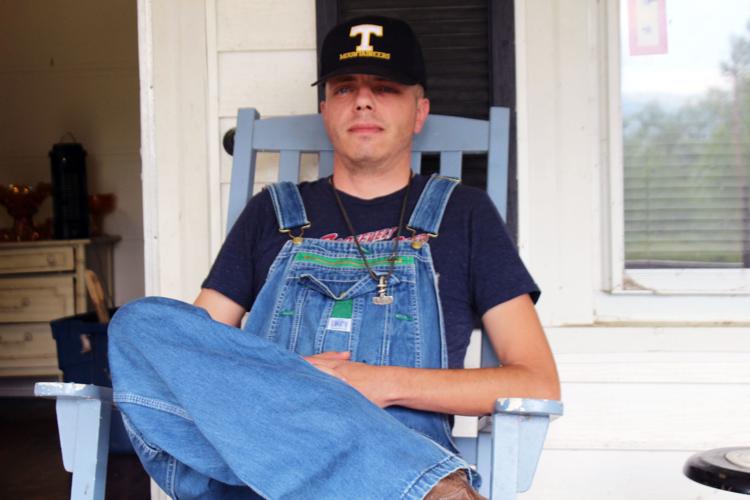 Such violence is in his past, however. Nowadays, he's content to enjoy the rural serenity of Fines Creek. One of his passions is sharing survival knowledge via Facebook and through the affordable classes he hosts, the proceeds of which often go to good causes — including the Fines Creek Community Center, for which he frequently raises funds.
His wild edible walks range from $15-20, while his land navigation classes are $20-25. Compare that to the prices at the Wilderness Survival School at Nantahala Outdoor Center — which range from $60-$566, depending on the offering — and it's clear why Grasty's popularity has risen.
He's in the process of moving into the house connected to the porch he's sitting on, from his former home just around the way. His new residence — which is where his father lived, before deciding to move to Tennessee — won't be your average 21st century home, though.
Grasty is filling it with valuable antiques, and plans to keep modern technology to a minimum. He wants visitors to feel like they're walking back in time when they stroll through the front door. And truth be told, he's making good progress on that front.
Near the end of his interview with The Mountaineer, after hosting an impromptu wild edible walk around his yard (see accompanying front page article), Grasty and I strolled across the road to inspect some sycamores along the creek bed. After explaining how sycamores are a great emergency water source ("The sap is 98 percent water," he says), he points across the creek, in the direction of an open field.
"They're going to build lots and houses over there, and I don't like it," he says. "As pretty as it is now, I don't want to look at a bunch of McMansions. You see all these big houses along [Route] 209, with huge porches — but nobody's ever sitting on them."
And with that, we walked back across the street, and sat down on the porch. I listened as Grasty explained how jewelweed got its name. He flicked cold spring water on a leaf that was lying on the wood.
Sure enough, the clear liquid beaded up — just like a jewel.