When it comes to supporting the Big Brothers Big Sisters of Haywood County, J.M. Teague Engineering (JMTE) spares no expense — and for 2021, the organization came up with a striking new idea to support its annual fundraiser.
The annual Bowl for Kids fundraiser will look much different for 2021, with it being moved online to accept virtual bowling videos instead of gathering in person.
Supporters are being asked to submit creative 60 second bowling videos of teams bowling anything and everything (excluding children and animals).
Dave Gildersleeve, who serves as chairman of the Big Brothers and Big Sisters Advisory Council in Haywood County and is on the board of directors for Big Brothers and Big Sisters of WNC, rallied his staff at JMTE to create a "human bowling" event that could be filmed for the fundraiser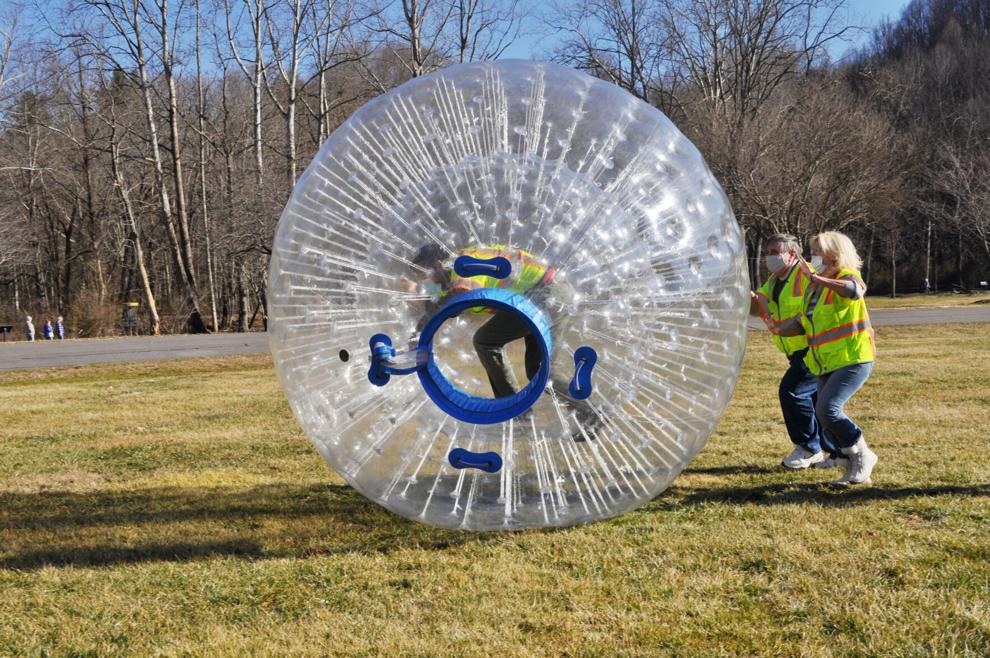 On Wednesday, Feb. 24, nine staff members dressed in neon yellow JMTE vests got the ball spinning by rolling inside an inflatable Zorb ball. Zorbing is the recreation or sport of rolling inside an inflatable orb, typically made of transparent plastic. JMTE turned the sport into a human bowling event using traffic barrels as the "pins" while they became the "bowling ball" inside the inflated Zorb.
Outside of the Waynesville Recreation Center, a handful of JMTE staff dove inside the Zorb ball and rolled themselves toward the traffic barrel pyramid, knocking them down to result in a strike.
BBBS WNC needs supportZorbing is only one creative idea to bowl, and supporters are still needed to join the Bowl for Kids Sake fundraiser. Videos are open for submission until March 15 so teams are still welcome to sign up.
Videos are open for submission until March 15 so teams are still welcome to sign up. To create a team, visit https://www.bbbswnc.org/bowl-for-kids-sake-2021/.
In addition to fundraising support, Big Brothers Big Sisters of Haywood County is also in need of volunteers, said Haywood County Program Coordinator Martha Barksdale.
Barksdale said that BBBC of Haywood is especially in need of male volunteers, to mentor a child in our community.
"This is not a huge commitment but it is super effective in enhancing the life of a child," Barksdale said.
Currently, Haywood's program has several children on the waiting list to be matched with a mentor.
"These are great kids, they just need a good role-model and friend like you," Barksdale said. "With your help, we could ignite their potential."
Barksdale shared some real stories of Haywood children who are in need, with their names changed for privacy.
Boys:
• Bobbie of Waynesville — A third grader who was adopted by his grandmother, really needs a male figure in his life. He is smart, has a great sense of humor, loves to swim, riding his bike and scooter, baseball, basketball, his trampoline, art and music. He loves Math, has no academic needs. Bobbie would be great for a couple's match.
• Edward of Waynesville — A third grader who lives with mom and siblings. Edward is super active, loves anything outdoors, riding his bike, hiking, fishing, hunting. Edward has said he would love a Big Brother to throw a ball with. He has been on the waiting list for two years.
• Brandon of Canton — A fourth grader who lives with his mom and older brother. He is a very sweet outgoing child, not a bit shy. Brandon is very athletic and loves swimming in the river. He is a great storyteller and is creative, loves animals, would love to go hiking with a Big Brother. He has been on the waiting list for two years.
Girls:
• Irene of Waynesville — A fifth-grader who lives with her Mom and three siblings. she is super athletic and is on travel basketball and softball teams. Irene is extremely shy at first. She also loves to swim and would love to hike. She has been on the waiting list for one year.For more information or to get involved, call Barksdale at 828-273-3601.