Every Wednesday morning from 9-10 a.m., a handful of Friends of the Haywood County Public Library can be seen outside of the Haywood library, pruning, planting and plucking to keep it looking neat and tidy.
Since August, the Friends of the Library have been volunteering once a week to keep the library grounds looking its best, and the organization would love to have other volunteers from the public come help.
"We just wanted to keep the grounds looking pretty and keep up with the weeding and gardening," said Friends of the Library president Susan Trahan, adding that there are also volunteers at the Canton Branch Library who do the same thing.
The Friends of the Haywood County Public Library is an association of community members who volunteer to help support the library and its staff, as well as helping with fundraising events and helping promote the library services offered.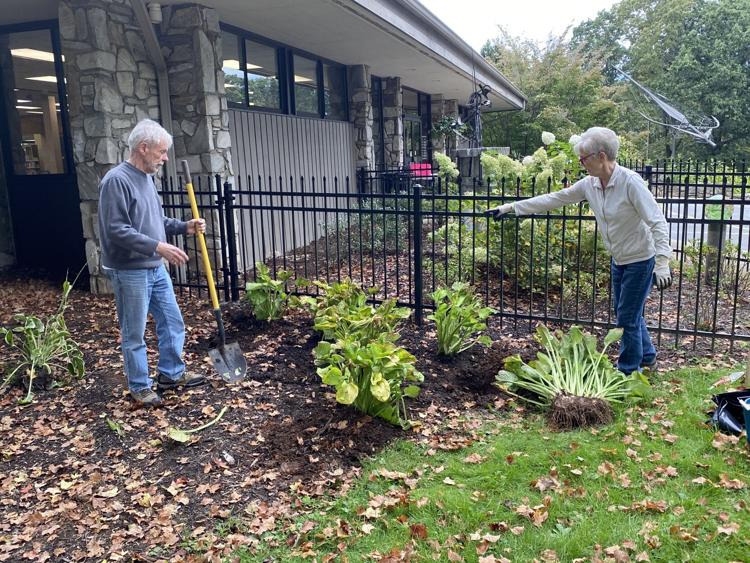 While the Haywood library is not currently open for indoor visitors, it does have a curbside drive thru book service that is operating full swing.
"During the drive-thru the other day, we had 104 people pick up books," Trahan said.
To help maintain the grounds, the Friends of the Library volunteers pull weeds, trim bushes and even re-plant some of the plants.
"The Mountain View Garden Club called some of our members and asked if we were accepting donations," Trahan said. "So everything we plant has been donated."
For anyone who would like to join in and lend a hand, the library volunteers will meet every Wednesday at 9 a.m. at the library grounds. To get more information on how you can help, email FOLHaywoodCounty@gmail.com.