Two local women, who are personally saving ill and injured cats at their own expense, have come up with a unique way to fund this project.
Sandi Sonagere and Beth Brown have opened a teddy bear museum at 74l S. Haywood St., Waynesville, and are inviting the community to come by to see the many bears, Beanie Babies, and other stuffed animals they have collected for over 70 years.
"We are hoping that every person will see one of the stuffed bears they especially like and sponsor that specific bear," said Sonagere. "In turn, that sponsorship will help to provide medical expenses for one of the very needy cats in our care."
The Little Cache: W. Bear's Adventures Museum is divided into four themed sections. In addition to the largest main room, there is a room dedicated to the military and veterans. 
Sonagere and Brown are both U.S. Army veterans.  Brown served 22 years. She entered as enlisted personnel in medical research and retired as an executive officer with the 607th Medical Det. at the rank of major. Sonagere spent five years in the 3rd Infantry Division as an NCO in the support command.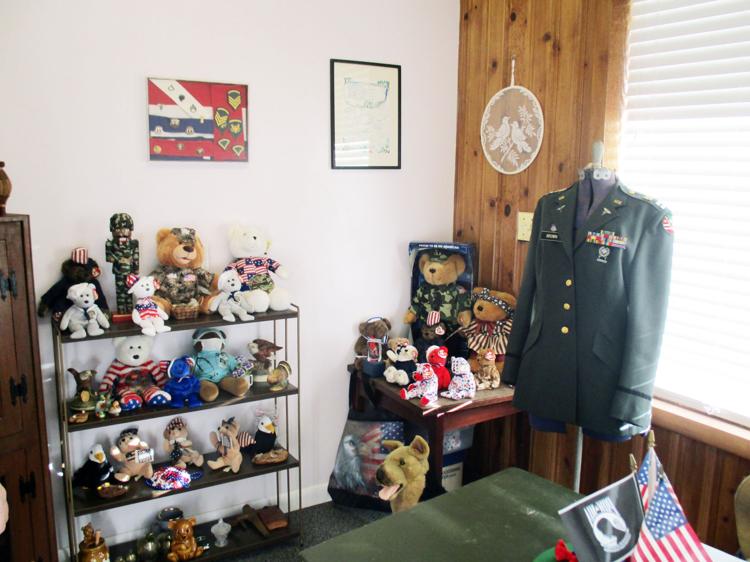 The stuffed animals in military-themed room are surrounded by memorabilia from the women's and their families' stints in the service.
Presently there are 500 plus teddy bears, 250 Beanie Babies, and other types of stuffed animals. The women will be adding to the display as they have at least 4,000 more.
Sonagere and Brown are presently caring for approximately 20 needy, abandoned cats. Instead of adopting them out, the women plan to keep the cats and let them live out their lives in comfort; most have some type of physical condition that require medications.
"Our hope is that we can make our museum so interesting to the community that folks will want to sponsor a stuffed animal, which, in turn, will help its needy counterparts live out their lives in a comfortable and loving environment," said Brown.
For more information call 828-246-3167.