Wiley Howell Smith is remembered throughout Haywood County as the funny-yet-strict English teacher at Waynesville Township High School and the man who walked all over town.
The Macon County native who has lived in Waynesville for more than 45 years will soon be turning 90— and although he has outlived most of his family, Smith will not be celebrating his birthday alone.
Reaching 90 is quite a feat, which is why Smith's lifelong friend Sally Ratcliffe has planned a birthday event for him this weekend. 
"We've laughed about him getting to 90 and never thought he would," Ratcliffe said. "This was a good opportunity for students and everyone who knows him to come celebrate." 
Dozens of former students, close friends and family will be coming to the Wells Events Center in Waynesville on Saturday, April 7 from 1-4 p.m. to celebrate with Smith. Everyone is welcome to stop by.
"I think it's great," Smith said when asked about his upcoming party. "Especially getting to see all my students and my family. I've taught school a long time here and. I'm in close with my kids  — They make everything more delightful." 
Smith currently suffers for lymphedema, or leg swelling, which renders him unable to walk and keeps him homesteaded. But at one point, walking was his way of life. 
"I loved to walk. I was a runner," he said, adding that one of his favorite things to do was walk down Main Street in Waynesville. 
Surprisingly, Smith briefly worked as a fashion model in Florida, where he was told he had great legs — likely from all the walking and running he did.
"That was the easiest job I ever had," he said with a laugh. "I didn't have to read 100 essays."
Unfortunately, Smith hasn't been able to walk or run in almost nine years.
Smith has been battling prostate cancer for the last 13 years but is currently in remission after radiation treatments — which unfortunately caused the lymphedema.
He also still deals with injuries stemming from the 47 pieces of shrapnel that pierced his lungs during a grenade explosion in the Korean War in 1954. Smith, who served in the U.S. Army for two years, is lucky to be alive after enduring such an injury — for which he received a purple heart.
"I still get flashbacks," Smith said. 
 Mr. Smith
After returning from the war, Smith began teaching in Waynesville in 1956, and it wasn't long before he became known as a top-notch English teacher.
"He was considered the best English teacher ever," Ratcliffe said. "I'm telling you, everybody — all the doctors and lawyers— everybody wanted their child in that class. It was hard to get into his class and hard to stay in it. He would not pass you - you had to make those grades."
Ratcliffe knew Smith as a teacher her mother worked with at Waynesville Township High School.
"They motored to school every day in a big black Chrysler Windsor that belonged to mother," Ratcliffe recalled.
Ratcliffe also recalls Smith making clever jokes in class regularly.
"He did cute things," she said. "A student would say, 'Mr. Smith can we crack the window?' And he would say, 'Why do you need to crack it? Why not just open it?'"
"I tried to make class come alive — not just about the books," Smith said about his teaching. 
And his students never forgot that. Smith taught for 30 years and has lived in Haywood County for over 60 years and his students still come to visit him regularly.
"I hear from them all time," he said.
Loving life 
Smith may be 90 years old and homesteaded, but that doesn't stop him from doing what he loves most. Visitors will know right away that Smith has a passion for flowers.
"I like plants better than animals," Smith said. "My landlady lets me have a little garden here and everybody likes it. I have orchids in the house — they're my favorite."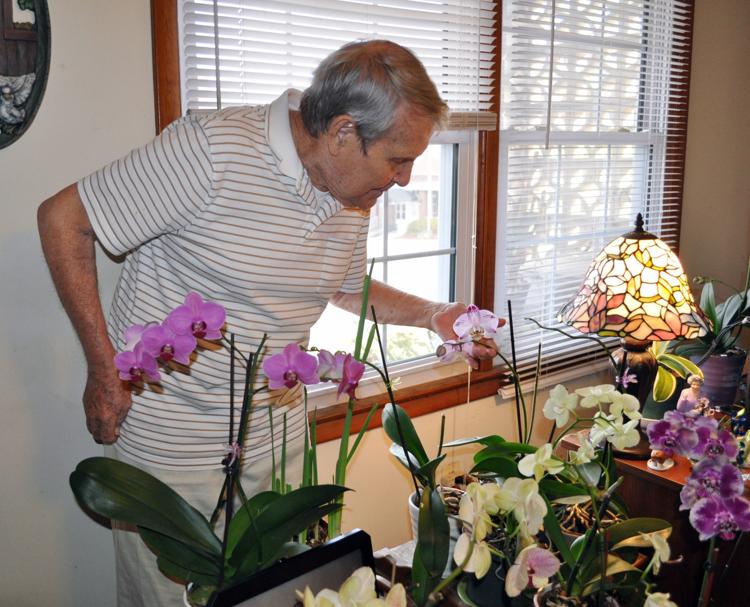 And when he is not gardening, he is an avid reader and self-proclaimed crossword puzzle nerd.
"Puzzles are my biggest hobby," he said. "I'm trying to fight off dementia."
Smith is also a music lover and singer with musical family roots. At one point, Smith was a musical director of a choir and even sang at weddings.
He also keeps large stuffed bears it his apartment to keep him company. One of the bears is named Henrietta and she stays in the living room with Smith.
"My lady friend gave it to me and told me that I needed someone to talk to," he said. "But (Henrietta) never answers me." 
Smith is the sole survivor of his family since he never married or had children and he also outlived all of his Army friends. His four siblings passed away rather young, and Smith says he must have a "survivor gene" inside of him.
When asked what his secret was to living so long, Smith said it must have been in all the exercise.
"When I was told I had cancer, I had walked to Balsam and back the day before," he said. "I think it's God-given, too."