The Western Carolina University Fine Art Museum at Bardo Arts Center is hosting the exhibition Joshua Adams: Facing Culture, running through Aug. 24.
The exhibition brings together a selection of masks and carvings of the human face by Eastern Band Cherokee artist, Joshua Adams.
A teacher of woodcarving at Cherokee High School, Adams' work reflects on the importance of preserving his culture and how outside influences have, and still do, impact Cherokee life and belief.
Intended for display rather than ceremony, these representations of the human face range from traditional Cherokee forms, such as the hornet's nest mask, to contemporary twists on tradition, such as his blistered "zombie" mask cast from a carved warrior form.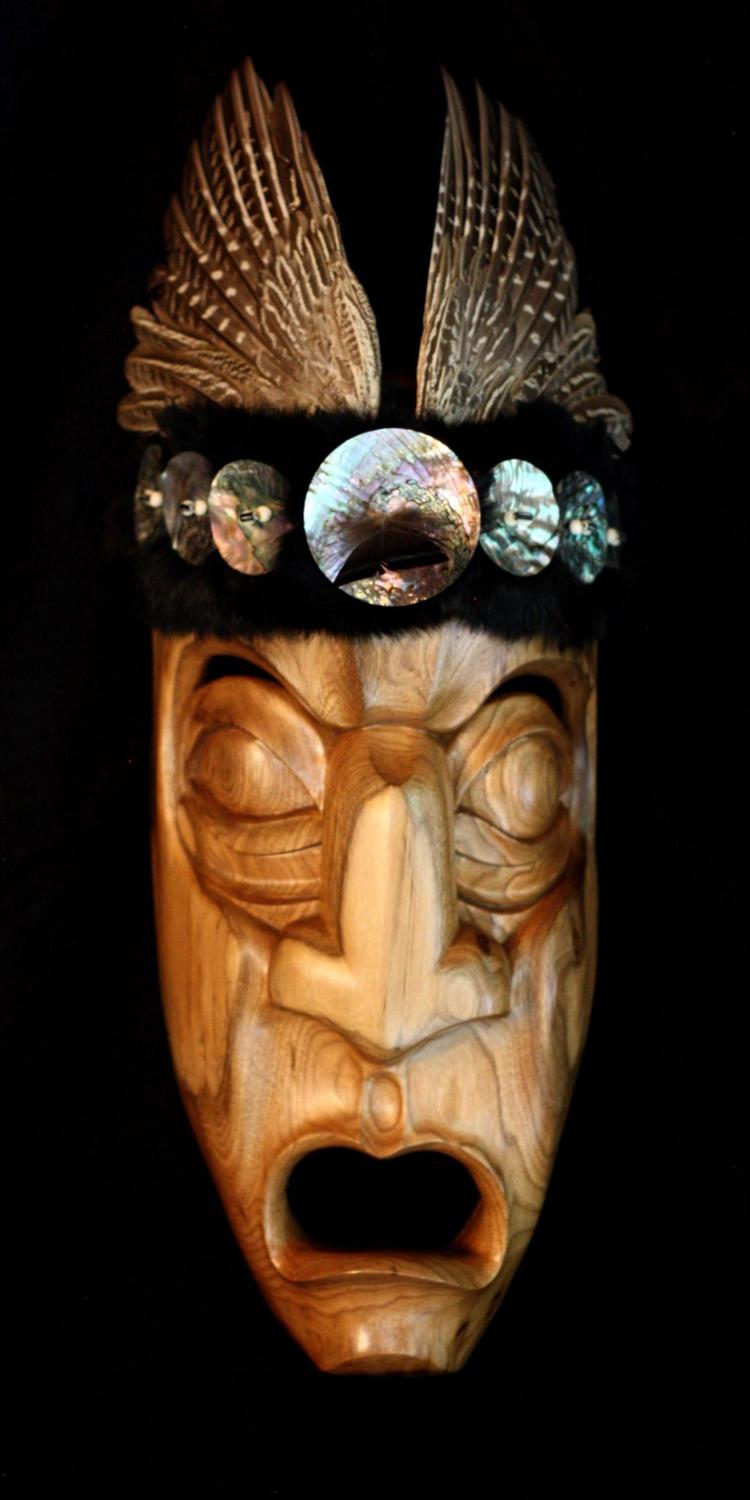 Made from a variety of woods with details fashioned from rabbit fur, feathers, porcupine quills and traditional arrows, Adams' works demonstrate the technical complexity of mask making.
Adams studied wood carving under artist Dr. James Bud Smith. He is influenced by sculptor and teacher, Amanda Crowe, who taught wood carving for nearly 40 years at Cherokee High School. He also learned aspects of his craft from his family, which includes woodcarvers James and Irma Bradley.
In 2010, Adams took over teaching the woodcarving program at Cherokee High School and now instructs a younger generation of students in this revered Cherokee art form.
He combines this pride in his culture with an aesthetic inspired by graphic novels and graffiti art that brings his work a 21st-century edge.
Adams regularly uses texts on Cherokee culture as a jumping point for his work and then finds ways to tie in his personal experience or offer provocative commentary.
The reception for Joshua Adams: Facing Culture, will take place from 5-7 p.m., on Aug. 23, at the WCU Fine Art Museum at Bardo Arts Center, 199 Centennial Drive, Cullowhee, NC.
The reception will begin at 5 p.m., with a gallery talk at 5:30 p.m., followed by live music and refreshments.
Regular museum hours are 10 a.m.- 4 p.m., Tuesday through Friday, and until 7 p.m. on Thursdays.
For information, call 828-227-ARTS or visit bardoartscenter.wcu.edu.