My human is so silly. She thinks she can hide her delicious flaked sea meat from me. Doesn't she know about my primal sense of smell?
The moment she walked to the cabinet and took down the small aluminum can, I saw her nervously make eye contact with me. I knew that she was about to make something yummy.
I played it cool, knowing what was about to go down. Things were gonna get fishy.
I stayed in my cardboard box for a few moments, making her think I didn't know what was going on. But then, she took out the can opener, and as soon as it punctured the top of the can — all bets were off.
*sniff sniff*
The aroma of such wonderful salty sea meat filled the air as she twisted the can open and popped up the lid, unlocking the magical flaked bits of deliciousness.
"MEEEOOOOOOOOWWWW!"
The smell had hit my nose and I blacked out, losing all control.
I started shouting the songs of my people. "Oh my God, I want it so bad! Pleeeaaaaseee let me have some!!! The decadent sea meat! Dis mine!!"
My mouth was watering. I stretched my arms up as far as they would go, tapping the bowl on the counter. I tapped my human over and over with my paw. I tapped her leg. I needed the meat.
"Not yet!" she yelled at me.
How could she be so cruel to taunt me like this. It was time for second dinner.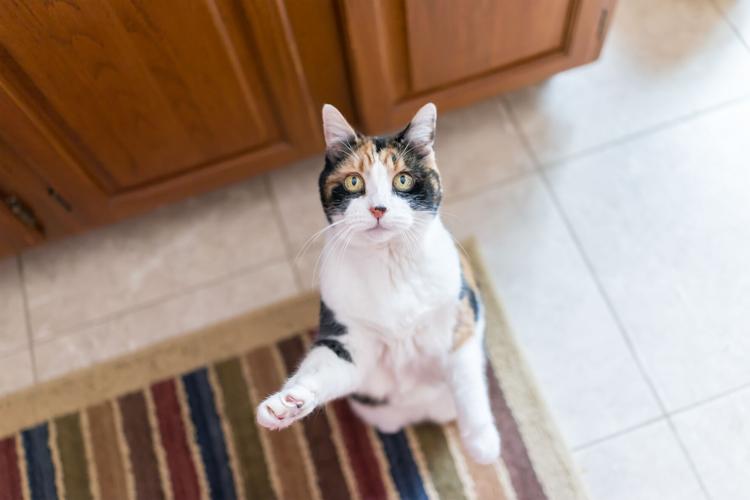 "MEEEOOOOOOOOOOWWW!!"
My instincts took over. Like a ninja, I knocked the can down off of the counter.
It fell to the floor. There was hardly any sea meat left inside. How selfish for her to take it all! There were still some scraps. "Dis mine!"
"Bad kitty!" she yelled at me, but I didn't care. My face was inside the can. I was devouring my sea meat morsels faster than I could breathe. The salty juices covered my face.
She took the can away and threw it in the trash, but I was already done.
I hopped back in my box, ready for a nap, but first I had to clean my face.
I licked my paw, and was stroking my face clean when I looked at my food bowl. It was full of kibbles, not even touched yet.
"Oh well," I thought. It would be my second dinner.