When the sun is shining, I love nothing more than to take a cozy nap in the sunshine spot on the bed. Sometimes, I even lounge on the window sill and sunbathe like a nudist.
But as soon as it's nighttime, I come alive. I sing the songs of my people for all to hear. And yes, they really enjoy it.
About 3 a.m. is when I really hit my stride. In between my deep and throaty "OWWAA" noises I shout to my Mom, I also run as fast as my fat belly pouch will let me. Back and forth, back and forth. To the bedroom, to the bathroom...under the coffee table and charge at the couch. When the rug crumples up is when I know I'm really getting in my groove.
I pause for a brief rest and stare at the wall. Then I'm back on my cankled feet, scratching my claws against the wooden floors as I slide through the halls. "I am kitty, hear me ROAR," I say in my head. "MEOOOWWWWWAAAA!!"
Sometimes, I feel sad though, because my humans are not awake to play with me. Even though I howl in my best Whitney Houston voice, they still snore on without me, as if nothing is happening at all. It makes me frustrated.
Sometimes, I try to knock the remote and candles off the table, just to see if they will get up. But they don't. I just wake up in the morning and get the water spray. But it's worth it.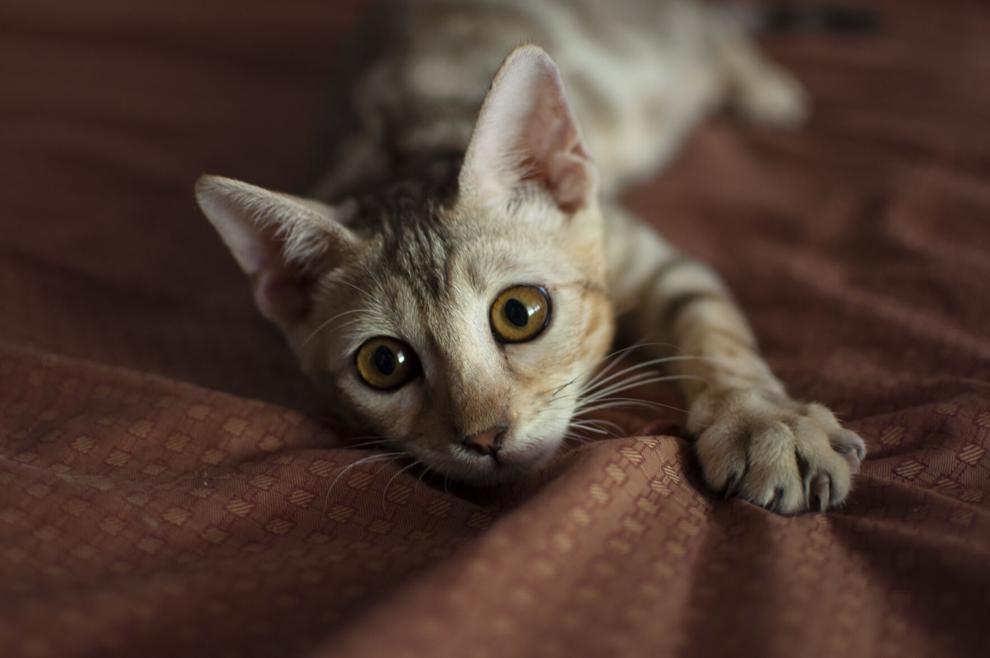 But that's not as fun as playing the footsie game. No, that is my favorite. If the loud sounds don't work, I simply will jump on the bed, all nonchalantly, and stretch out by the lumpy spots at the bottom of the bed. These will be my prey.
Mommy likes to move in her sleep, so I patiently wait for my foot bump to move, ever so slightly. When she finally does, THUMP! I pounce on her foot like there's no tomorrow. She grunts and moves her foot...then I pounce again. THUMP! Back on the foot, with my sharp teeth clinging to her toes under the blanket. Both of my paws cling to the foot with my nails poking it every so delicately. My paws hold it steady while I gnaw on my new comforter catch of the night.
OUCH! My mom will yell, and she kicks her foot at me. She likes this game, so I keep playing. She moves, I pounce. She moves again, I pounce again. She finally wins the game after waking up, shouting some bad words and finding the spray bottle in her sleepy stupor. She points it at me ferociously, but I have already darted away into the darkness of night before she can even get a drop on me. The nighttime ninja reigns again!
This game I play with Mommy is fun. I can't wait to play it again tonight.