Where there is a box, there is a happy cat inside feeling cozy.
At least that's what I think. I have boxes all over my house and it's not because we are just really trashy — it's because I love all of them. So. Much. And if Mom throws any of them away, I will loudly sing the songs of my people until I get my box back. Or a brand new one of similar size.
I have quite the collection - there's my shoe box, the giant box, the gift box for clothes, the small box, and my personal favorite - the Amazon box! I almost do a summersault when it's Amazon package day at my house...actually, just kidding I'm too fat for that. But I digress...
Sometimes the squirrels taunt me from their magical outdoor kingdom and I can't get to them. So then I stress eat and then go to the box of my choosing.
When I was a wee kitty I used to sleep inside my mom's tissue box. Puffs Plus Lotion to be exact. It was so soft and warm in there. I tried it again a couple of years later and I squished the whole box flat and then I got the water shower because I was bad kitty. I learned that I didn't fits so I can't sits.
So why do I love boxes so much, you ask? Well it's pretty simple. If I fits, I sits. If I can sit in the box, I will indeed sit in the box. I will lounge in it, bathe in it, sleep in it, chew on it, roll around in it and sometimes even sit right next to it
It's just so....comforting. The tight enclosed space around me makes me feel safe. If I am a bad kitty and get the water sprayed at me, I run to the box as fast as I can with my big belly swinging underneath and hop right in. Then BOOM, my stress is all gone. I am safe kitty.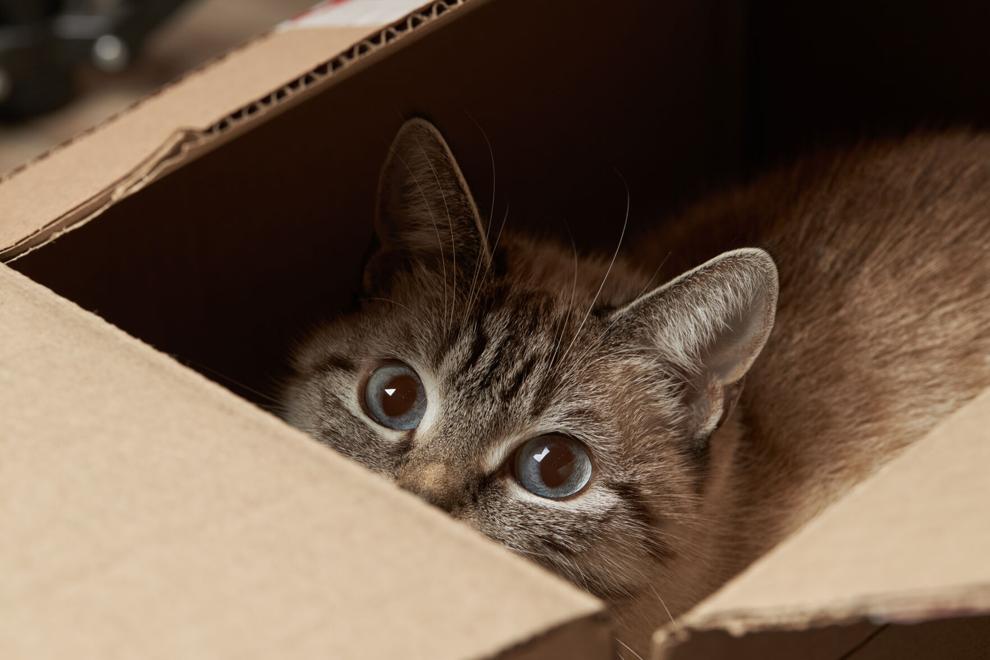 I also hide in my large box. My mom calls it my "cat condo" because it's so big that I can hide inside and keep all of my toys in there with me. No one knows I am there so when it's time for a kitty pounce...."MEOW!" I claw you by the pajama pants and then there's no escaping. I have hunted my prey. Then I go back inside the condo box and take a nap.
Can I also just say that it's seriously super warm inside my box? Especially when I sits in the small shoe box - it's like a magical cardboard blanket for my big body.
There's even a cozy box in my Dad's office for when we need some "male bonding" time. It works out well. It's sorta flat now from all the hours of flicking my fluffy tail on it while I'm sitting there, but it still works. Wherever there is a box for my big ol' booty, I will be there.
And to all the other cat parents out there, don't throw away your boxes. Just don't. Order yourself a big gift off of Amazon and then let us keep the trash. We will both be Oh, so happy. It's a win-win.